Press Release brought to you by NAI Brannen Goddard
NAI Brannen Goddard to Lease 1 million SF Buford Logistics Center
Report of original article written by Douglas Sams for Atlanta Business Chronicle on March 18, 2020.
Amazon.com Inc. will occupy over 1 million square feet for a new logistics operation north of Atlanta.
Amazon leased two buildings in Lanier Logistics Center, a 112-acre development in Buford, about 45 minutes outside the city. The project includes two buildings, one at just about 815,000 square feet, the other at just over 300,000 square feet.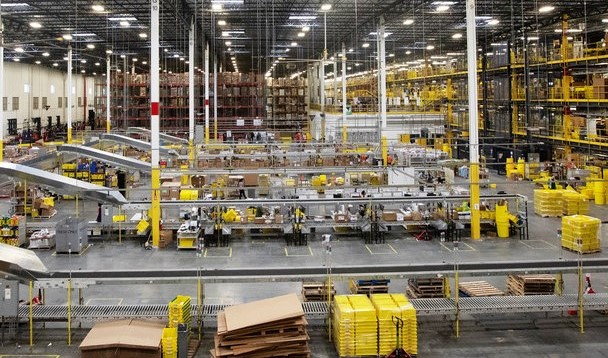 Amazon will use Lanier Logistics Center for a delivery station. Essentially, that's the point in its massive network where products are moved into the last-mile delivery system.
The Buford expansion comes as Amazon is also exploring a site in south metro Atlanta for a $250 million to $500 million robotics fulfillment center. The facility, which is reportedly close to 1 million square feet, could be similar to a new four-story, 700,000-square-foot fulfillment center in DeKalb and Gwinnett counties that employs over 1,000, sources familiar with the project said.
In an email to Atlanta Business Chronicle, an Amazon spokesperson said the company can't comment on its "future roadmap."
Amazon continues to emerge as a major employment provider in metro Atlanta. It has created more than 3,500 full-time jobs across the state, the spokesperson said.
The company also estimates that its network expansion in Georgia has created an additional 5,000 indirect jobs. On Mach 17, Amazon said it would hire an additional 100,000 employees in the U.S. as demand surges for online deliveries amid the spread of the novel coronavirus, The Wall Street Journal reported. The company's massive fulfillment engine is already feeling the stress caused by unprecedented demand.
During the past month, Amazon has posted openings in Buford for management positions.
IDI Logistics is the developer of the new buildings for Amazon at Lanier Logistics Center. The project is led by IDI Logistics' Nick Faber. Leasing is led by Nathan Anderson and Darren Butler of NAI Brannen Goddard.
Source
Want more news about NAI Brannen Goddard?
Click here