Press Release brought to you by NAI Brannen Goddard
NAI Brannen Goddard Facilitates $16.6M Sale of Future Student Housing Development
ATLANTA, GA – June 12, 2019 – NAI Brannen Goddard, a leading provider of commercial real estate services, recently facilitated the sale of Ponce & 3rd, a one-acre property located on the corner of 3rd Street and Spring Street NW in Midtown, Atlanta, Fulton County.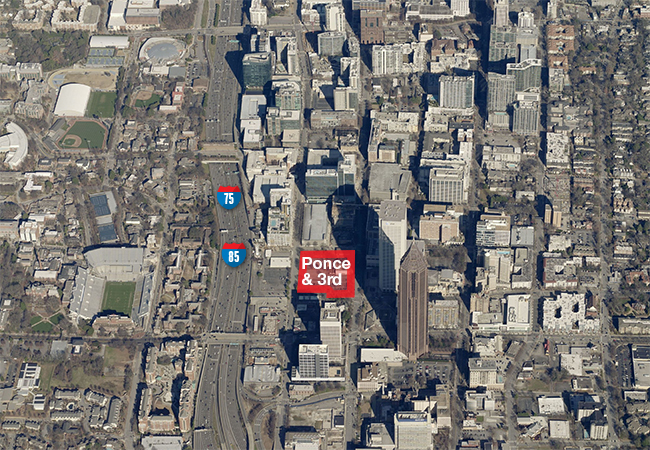 NAI Brannen Goddard managing director Stan Williams assisted the sale on behalf of the buyer, CA Ventures. Archdiocese of Atlanta sold the property for $16,600,000. 
Ponce & 3rd is located on a coveted spot on Midtown's Technology Square. The property is a block away from Atlanta staples like the AT&T buildings, The Fox Theatre, The Varsity, and the recently completed mixed-used development Coda. The property is also two blocks from the Anthem Technology Center, the new headquarters for Anthem, Inc., which is currently underway at the Bank of America Plaza on the southeast corner of North Avenue NE and West Peachtree Street NE.
Ponce & 3rd will house a residential tower for Georgia Tech students, and is a short half-mile walk from the heart of campus. The 3rd Street Tunnel allows for safe foot traffic beneath Interstates 75 and 85, and the property is a five-minute walk to the North Avenue MARTA Station. 
NAI Brannen Goddard, who represented the buyer, is a privately-held commercial real estate firm headquartered in Atlanta, Georgia, which provides a wide scope of services to regional, national and international clients. The firm serves tenants, owners and investors in virtually every industry, and the brokers are top producers with 40 million square feet of listings. NAI Brannen Goddard is the Atlanta-area representative for NAI Global, a leading global commercial real estate brokerage firm more than 400 offices worldwide. To learn more, visit www.naibg.com.
Source
Want more news about NAI Brannen Goddard?
Click here