Press Release brought to you by NAI Brannen Goddard
NAI Brannen Goddard Awarded Leasing of Million Square Foot Logistics Center
ATLANTA, GA – March 15, 2019: NAI Brannen Goddard, a leading provider of commercial real estate services, was recently awarded the leasing of Valentine 85 Logistics Center, a brand-new 1,021,440-square-foot building owned by Hillwood, a Perot company. NAI Brannen Goddard president Nathan Anderson and vice president Austin Brannen represented Hillwood in the property's acquisition and retained to manage the property's leasing.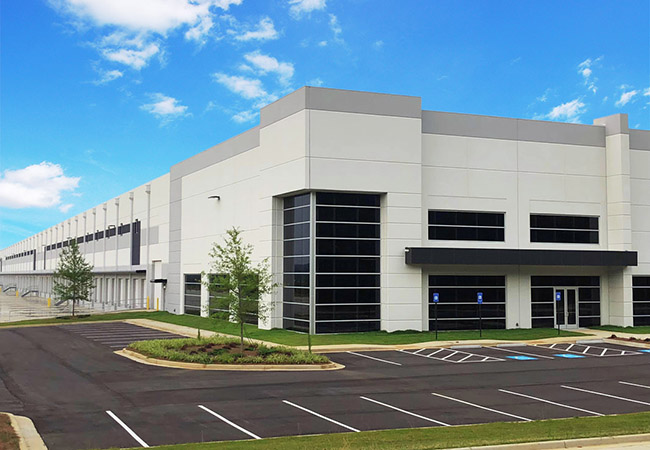 "Hillwood is very aggressive on making competitive deals and getting creative to accommodate tenants," Brannen said of the landlord.
Valentine 85 is a 5-star industrial warehouse located at 117 Valentine Industrial Parkway in Pendergrass, Jackson County, Georgia, with easy access to Atlanta's Interstate 85. The 106-acre property has the potential to expand to 1,521,440 square feet and can include over 200 extra parking spaces in addition to its current 446-space lot. The building is a Class A design with 40-foot minimum clear height, 7-inch Ductilecrete floors, dedicated access driveways, queueing lanes, deep truck courts, and 267 trailer parking spaces with abundant storage. 
"The building has great access…and is the most functional building [of its size] in the northeast Atlanta market," said Brannen. "This is the only building that can potentially be expanded an additional 500,000 square feet to accommodate growth."
NAI Brannen Goddard, a privately-held commercial real estate firm headquartered in Atlanta, Georgia, provides a wide scope of services to regional, national, and international clients. The firm serves tenants, owners, and investors in virtually every industry, and the brokers are top producers with over 40 million square feet in listings. To find out more about leasing Valentine 85 Logistics Center with NAI Brannen Goddard, contact nanderson@naibg.com or abrannen@naibg.com, or visit naibg.com.
Source
Want more news about NAI Brannen Goddard?
Click here