Press Release brought to you by NAI Brannen Goddard
Atlanta Office Market Review – Q1'19
Thanks to a limited supply pipeline and steady demand, Atlanta's office market is as healthy as it has been in decades. Even though construction is ramping up, the amount of new supply underway still falls short of Atlanta's historical average. Still, several recently announced projects could send construction levels higher in the near future, with much of that expected to break ground on a speculative basis. Due to consistently strong fundamentals, rent growth continues to outperform both the metro's historical average and the national average.
Demand is diversifying across industries and submarkets. While Buckhead and Midtown have always attracted big office users, many of the largest leases signed in Atlanta over the past several years have involved large national companies in submarkets outside the core.
Investment activity in Atlanta remains robust. Over 80% of institutional-grade assets have traded at least one time over the past seven years, which may be a partial cause for a slow down in investment volume from mid-cycle highs. Average pricing continues to increase and average cap rates have compressed to levels well below last cycle's trough.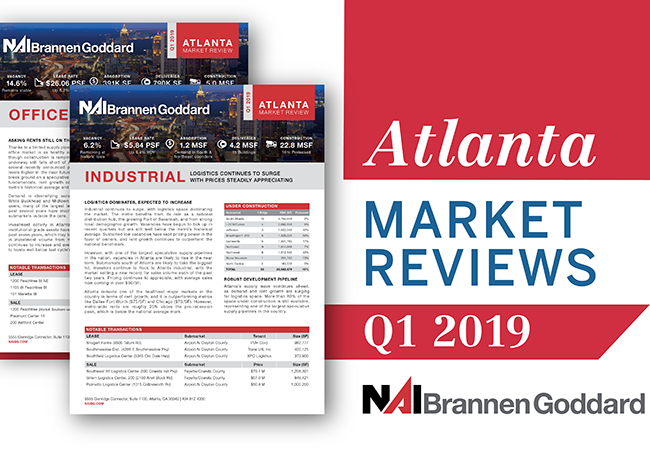 # # #
About NAI Brannen Goddard
NAI Brannen Goddard is a full-service commercial real estate firm, which provides a wide scope of services to regional, national and international clients.  Services range from leasing, investment sales and land sale to property and construction management.  NAI Brannen Goddard, founded in 1978, provides businesses, owners, and investors with high-quality real estate services and effective solutions for maximizing profitability and performance levels. To learn more, visit www.naibg.com.
About NAI Global
NAI Global is the single largest, most powerful global network of owner-operated commercial real estate brokerage firms. NAI Global provides a full range of corporate real estate services, including brokerage and leasing, property and facilities management, real estate investment and capital market services, due diligence, global supply chain and logistics consulting and related advisory services. NAI Global Member firms, leaders in their local markets, are actively managed to work in unison and provide clients with exceptional solutions to their commercial real estate needs. Founded in 1978, today NAI Global has more than 375 offices strategically located throughout North America, Latin America, Europe and Asia Pacific, with over 6,700 local market professionals, managing over 380 million square feet of property. To learn more, visit www.naiglobal.com.
Source
Want more news about NAI Brannen Goddard?
Click here