Press Release brought to you by NAI Capital
NAI Capital Releases Q1 2017 Industrial Market Outlook Report for the Inland Empire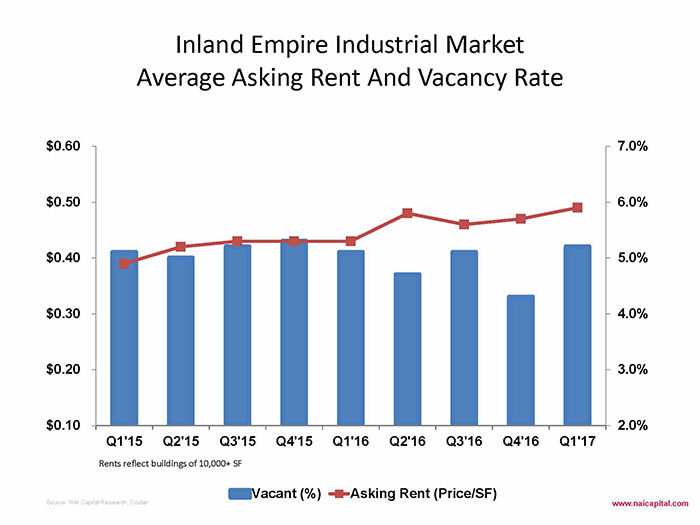 Ontario, CA, Monday, April 10, 2017– According to research provided by NAI Capital, in the first quarter of 2017 the Inland Empire industrial market experienced double-digit rent growth and an uptick in vacancy. The vacancy rate registered 5.2%, up 90 basis points from Q4 2016 and 10 basis points over Q1 2016. The increase in the vacancy rate can be attributed to the delivery of completed new construction. At the end of the first quarter, 27 million square feet of industrial space remained under construction.  The volume of space under construction is the largest seen since 2006. The wave of new development is the result of rising rents – which is being driven by strong demand for industrial space. The average asking rent increased 14% from last year. Average asking rents are now at the highest level on record.
According to Richard Lee, Senior Vice President with NAI Capital's Ontario office, "Demand for warehouse space in the Inland Empire continues to heavily outweigh the supply, further driving up both sale prices and lease rates.  Deal volume velocity has substantially decreased due to the lack of inventory. The ever-increasing demand for quality industrial space has created what is effectively now a bidding war and deals are now starting to ink at or even above asking price."
The Inland Empire will remain the premier market for industrial development in Southern California in 2017. The region is the only possibility for large scale industrial buildings that would not have room in Los Angeles or Orange County. Of the 126 projects currently under construction, 18 are larger than 500,000 square feet and 10 are greater 1 million square feet in size.
Nicholas Chang, CCIM, Senior Vice President with NAI Capital's Ontario office said, "Moving forward, we believe lease rates and sales prices will continue to surge ahead until such time as the relationship between over-demand and under-supply of industrial space changes due to macroeconomic factors.  For example, as retailers continue to develop their e-commerce platforms and shed their brick and mortar retail stores, industrial demand will continue to outpace industrial supply."
To access the full Inland Empire Industrial Market Outlook report, visit:
Inland Empire Industrial Market Outlook Q1 2017.pdf
About NAI Capital
NAI Capital is the largest independently owned full service commercial real estate firm headquartered in Southern California. As one of the largest members of NAI Global, the premier managed commercial real estate service network with 375 offices and 6,700 market leaders spanning the globe, NAI Capital provides a complete range of transaction, valuation, investment, property management and consulting services. By leveraging our local expertise with our global reach, NAI Capital offers innovative, customized solutions and seamless service to owners, tenants, investors and developers throughout Southern California. NAI Capital clients have built their businesses on the power of our expanding network. We are a dynamic growing commercial real estate company. At NAI Capital we work together putting our clients first.
NAI Capital Brokerage CA BRE #00806840.
To learn more, visit www.naicapital.com
About NAI Global
Founded in 1978, NAI Global is a leading global commercial real estate services firm with more than 375 brokerage offices and over 6,700 professionals located throughout North America, Latin America, Europe and Asia Pacific. The firm manages over 380 million square feet of property on behalf of its clients, globally. The NAI Global Capital Markets Group serves the largest institutional owners of and investors in commercial real estate.
NAI Global provides a complete range of corporate and institutional real estate services, including brokerage and leasing, property and facilities management, real estate investment and capital market services, due diligence, global supply chain and logistics consulting and related advisory services.
To learn more, visit www.naiglobal.com.
           # # #
Source