Top 10 Most Innovative Office Spaces
09/27/2013
Ditch the cubicle and take a look at some of the most fun, innovative office spaces in the United States.  From Google's slide to Airbnb's tree house, these companies tackle the challenge of employee well-being and efficiency, with creative office environments. 
Google – Mountain View, California
Employees at "Googleplex" don't have to bother with hassles like stairs or elevators.  Instead, slides have been installed as a fun and easy method of transport, and the fun doesn't end there.  If co-workers want to unwind they can start a friendly pickup game on one of the campus' multiple sand volleyball courts.
Bloomberg – New York, New York
The Bloomberg headquarters is located in a 55 floor mixed-use high rise that boasts residential tenants including Beyonce, Johnny Damon, and Jack Welsh.  Without a doubt, the most innovative feature of this office space is a curved escalator that is one of only two in the world.
Pixar – Emeryville, California
Walking onto the Pixar campus in Emeryville, California, is like walking into a cartoonish dream world.  The grounds contain giant statues that recreate objects that have become synonymous with the Pixar brand.  The yellow ball prominent in the Toy Story films, for example, is constructed in larger than life proportion on the company's grounds.  In addition, members of the animation department work in custom-designed huts to maximize creativity.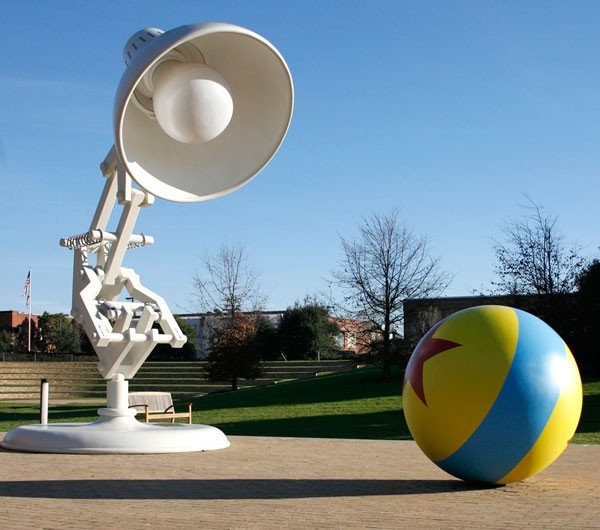 Facebook – Menlo Park, California
Mark Zuckerberg and the tech heavyweights as Facebook enjoy one of the most original office headquarters around.  Much like Zuck's signature hoody, the Facebook offices don't have a classic corporate feel.  With art by legendary graffiti artist David Choe lining the walls and designated video game rooms, Facebook places a premium on innovation.
ESPN – Bristol, Connecticut
ESPN's Bristol campus serves as the epicenter for the "Worldwide Leader in Sports."  Without a doubt, the highlight of the facility is the "ESPN Café."  The café is dotted with TVs, has a vintage popcorn machine, and basketball court out back.
Airbnb – San Francisco, California
All of the white walls, desks, and chairs in the Airbnb office will make you feel like you are in a Matrix movie.  It, also, is pretty notable that they had a domed tree house constructed inside the office to serve as a conference room.
Gawker – New York, New York
While we could go on about all of the great features of the Gawker offices, the rooftop deck is the feature that sets Gawker apart.  The deck is utilized for summer parties and as a workspace, when weather permits.
Youtube – San Bruno, California
Characterized by its wide-open spaces, Youtube's headquarters in San Bruno, California has it all.  Employees can take a break and practice putting or zip to a meeting on a Segway.
Foursquare – New York, New York
Located in SoHo's prestigious Prince building, the Foursquare office does not disappoint.  With each conference room encompassing a different theme, employees can decide whether they are in the mood to meet in the Herbivore room or the Socialite room.  The ping-pong and air hockey tables in the break room, also, aren't a bad touch.
LivingSocial – Washington, D.C.
This daily deals startup is living lavishly in a multiple building complex.  Fully equipped with a yoga room, rock-climbing wall, and skeeball, we wonder how LivingSocial manages to get any work done.