As with many cities throughout the country, Nashville has shown great interest in creating new mixed use projects. One in particular would help set the tone for development located along 51st Avenue North. Of all areas within the United States, this particular corridor is ranked as being one of the fastest growing for commercial real estate. Along with being a hot spot for mix use property, Nashville is also a hot spot for office space. 
Although Nashville has an excellent plan, there is now a delay because of concerns over traffic and parking. Michael Kenner of MiKeN Development LLC who is developing the project was scheduled for a vote last week at the Metro Board of Zoning Appeals but unfortunately, a council member representing the neighborhood convinced him to wait at least two more meetings to garner more support.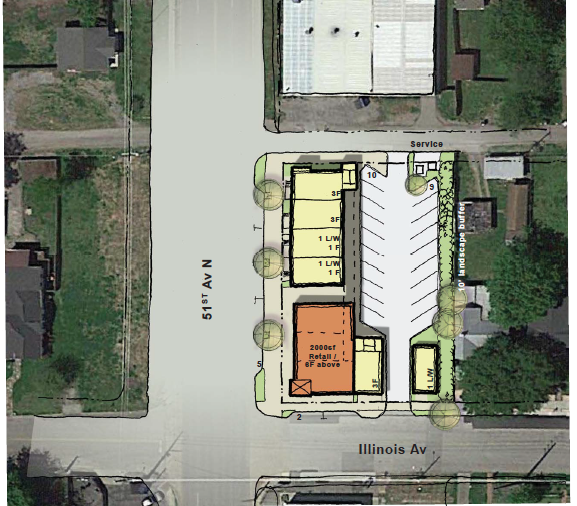 Planned Mix Use Property
According to the plan, 20 residential units and approximately 2,000 square feet of retail space would be developed on the corner of 51st and Illinois Avenue. As stated by Kenner, these units are "work-live" in type spaces but also affordable with prices ranging between $135,000 and $175,000. Although anyone is welcome to purchase a unit, Kenner is targeting young professionals who typically walk to work from home.
Kenner has an additional plan in the works for another mixed use property in which small startups would be able to rent small spaces while paying low rent. The issue from the board is that the 51st and Illinois Avenue mixed use property would create problems because of a lack of parking and impacted traffic.
However, as Kenner explains, the project would be constructed so it sits closer to the edge of the property and sidewalks. As a result, the neighborhood in general would be more walkable. This is not the first time that Kenner has worked on projects that make areas of Nashville more walkable. Just last year, he was the leader on a project whereby a street from temporarily transformed from four to two lanes, giving bikers and walkers room.
Kenner also developed container apartments for The Nations, giving him recognition as a serious developer. Many other developers feel that Kenner is on the right track and that in fact, believe that all of 51st Avenue should be developed in the same way. Kenner even received full support from the neighborhood, as well as his council member friend but when an update to the project was presented at the most recent meeting, the traffic and parking issue was raised.
Even though the 20-unit building would mean losing 20 parking spots, the ratio is still in compliance with current city code. There were some neighbors worried that overflow parking would cause the street to jam. With 51st being a major thoroughfare for commercial and trucking traffic as well, this is an issue that must be addressed.
Effect on the Neighborhood
Some people believe the 20-unit project would have a long-term effect on businesses that operate on the street along the 51st Avenue corridor and of course, commercial trucking on the street cannot be blocked. Even facing opposition, Kenner strongly believes in the project and has vowed to work hard to help people see the positive rather than negative.
Kenner is highly innovative and determined. As stated, should the development be designed to the problem, which is the parking and traffic, or should the design be the actual solution. Kenner pointed to a number of other cities that eliminated parking requirements with complete success to include Seattle, Washington. At this point, Kenner will have to wait until the next meeting to determine his course of action.